Humly Reservations
Book a room, space or desk easily through the Humly Web App or directly from Microsoft Teams.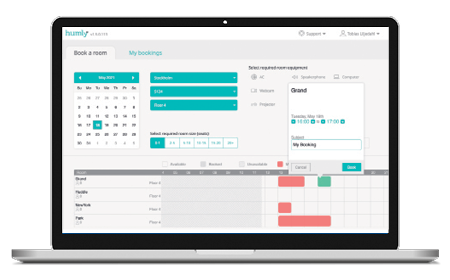 Let anyone book what they need, when they need it
Reducing frustration and distractions is the key to modern workplace success. Just like the rest of the Humly Workplace Solutions, Humly Reservations simplifies everyday office life with clean, helpful and intuitive technology.
Desk Booking and Room Booking is made easy using Humly Reservations from Humly Control Panel.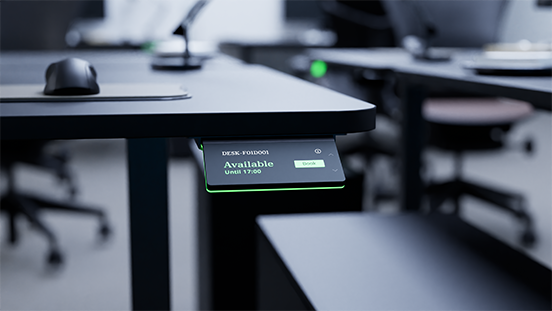 Desk Booking with Humly Booking Device
Infinitely flexible booking
Use our hardware solution Humly Booking Device to book resources, desk or other from Humly Reservations.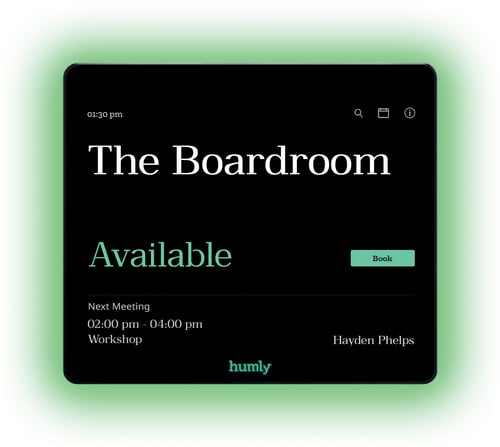 Room Booking with Humly Room Display
Award winning design with friction free
Use our hardware solution Humly Room Display to book rooms from Humly Reservations.
Control your own

bookings
Get an overview of your own bookings and make any adjustments you need. It really is as simple as that.
Add guest users
Humly Reservations integrates with your active directory and lets you add guest users to the system. That allows your guest users to book rooms or desks no matter what domain they are from.
Less friction, more focus.
Full Microsoft Teams Integration
Most employees do not use third party apps for work. The exception is Microsoft Teams, one of the most used workplace apps in the world. That's why we decided to integrate our Reservation app with the app your employees already have. Access Humly Reservations, through Microsoft Teams using single sign-on.
User Interface Languages
Arabic - Catalan - Chinese (simplified) - Chinese (traditional) - Czech - Danish - Dutch - English - Estonian - Finnish - French - Galician - German - Italian - Japanese - Latvian - Lithuanian - Norwegian - Polish - Portuguese - Russian - Spanish - Swedish
Other
Open API for third party integration
Communication via real-time two-way connection
Remote management with multi-site support
Real-time monitoring & statistics