Humly Room Display
A timeless booking solution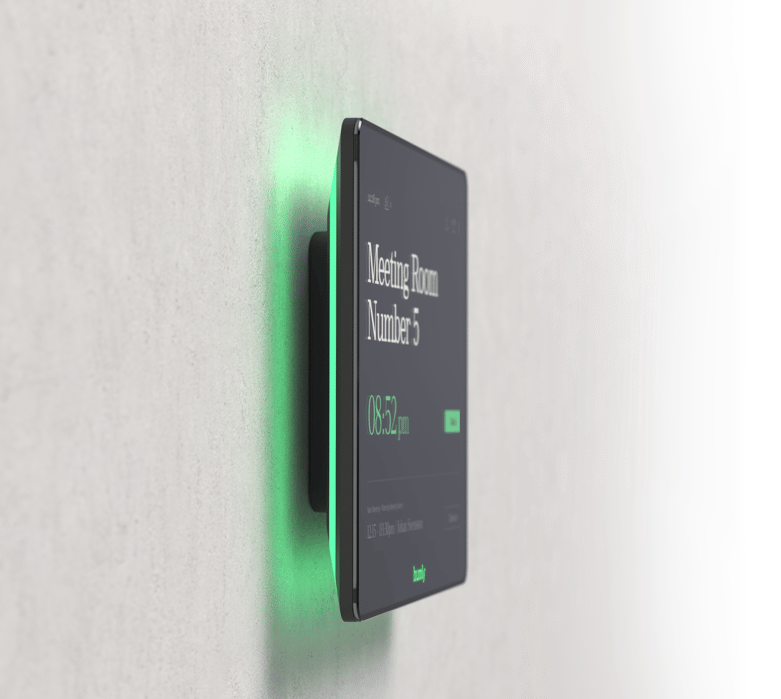 Elegant, intuitive and secure
The Humly Room Display is the perfect interactive display for your collaboration spaces. It will help you to find the space you already booked, or guide you to one that is available right now.
On the display it is clear who has booked the room and for how long.
With the Humly Room display you no longer need to disturb an ongoing meeting and you will instantly remove much of the friction related to meeting room reservations.
Its iconic timeless design will fit well into any modern office as its aesthetic has been developed to become part of the interior.
Humly Room Display Security Focus
Development Process

Our secure product development lifecycle is based on threat assessment and processes in ENISA Hardware Threat Landscape and Good Practice Guide, and CIS Security Cybersecurity Best Practices
Minimize attack surface

With control over all hardware components and software code in the product we are less exposed to generic attach methods. For customers with the toughest restrictions we also provide custom hardware versions.
External Review

As a part of our release management we apply a penetration testing regime where the application software is tested by an external team of penetration testers. In addition to a hacker approach they also have source code access to locate potential vulnerabilities that would beyond any scope for a regular penetration test.
Scalable Technology
The Humly Room Display solution is scalable to fit any customer. We can scale from a single room in the Humly Cloud to a thousands of rooms across multiple private data centers across the world. The hardware is approved and certified for all major global markets - a perfect fit for a global standard.
Humly Control Panel provides a flexible administration interface to monitor and manage your entire solution from a single location.
Our global logistics and support organization make sure that both sales channel and end customers get excellent service - all the time. Together with our customers and partners we continuously optimize the solutions and supported markets.
Design focused
"Design is not just what it looks like and feels like. Design is how it works"- Steve Jobs stated. Humly products aim high when it comes to aesthetics, but looking good is not the main reason behind our design and UI. Our design decisions are made to provide frictionless support to office workers so they can focus on their work and feel more satisfied when leaving the office at the end of the day.
Seamlessly Integrated
Humly has an open API that makes it easy to build deep seamless integrations with other solutions. Next to this, Humly is proactively working on providing additional customer value by making integrations with market leading solutions within smart office and collaboration technology.
Technical Specifications
The key features of the Room Display is to display the name and the current booking status of the room. In addition your individual system can be configured to allow you to view future bookings, book new meetings, extend or end ongoing meetings manually or cancel automatically if no check in has been made. You can also take it further and use it to report broken equipment, find other available rooms, integrate with sensors and other equipment inside the room and much more. If you want know more details on the functionality and specifications on the hardware please download the product sheet using the form below this section.
Visual interface
8 inch capacitive touch with anti-fingerprint treatment
48 LED RGB light aura and indication light
Connectivity
Wifi 802.11 a/b/g/n
Ethernet RJ-45, 10/100/1000 Mbit, PoE & PoE+(IEEE 802.3af), 802.1x basic support
NFC/RFID 13.56 Mhz (ISO/IEC 14443A/B), MIFARE 4K/1K
Bluetooth 5.0
Power
Power over Ethernet (PoE), or 12V AC/DC power adapter
Mounting
Mounting options for both standard and glass walls
5-way cable exit option for flexible installation
Compatible Platforms
Microsoft Office 365
Microsoft Exchange 2019
Microsoft Exchange 2016
Microsoft Exchange 2013
Microsoft Exchange 2010
Google Workspace
Nexudus
IBM/Lotus Domino Smartcloud
IBM/Lotus Domino 8.5.3 – 9.x
User Interface Languages
Arabic - Catalan - Chinese (simplified) - Chinese (traditional) - Czech - Danish - Dutch -
English - Estonian - Finnish - French - Galician - German - Italian - Japanese - Latvian -
Lithuanian - Norwegian - Polish - Portuguese - Russian - Spanish - Swedish
Size and Weight
Size (Width x Height x Depth):
With wall mount: 183 x 157 x 28.7 mm

Wallmount fastening - VESA 75 (75x75 mm)

Without wall mount: 183 x 157 x 25.6 mm

Weight: 650 grams (22.9 ounces)
Other
Open API for third party integration
Communication via real-time two-way connection
Remote management with multi-site support
Real-time monitoring & statistics